Affiliate marketing is a very large industry and has become a key source of online income for many thousands of professional bloggers. With more and more online businesses becoming involved in affiliate marketing, more opportunities have arisen for bloggers, like you and me, to make money with their blogs. and to ultimately create passive income streams.
With a wide variety of businesses that work directly with affiliates, most affiliate marketers will use an affiliate marketing network to search for offers for their blogs. Though these affiliate platforms will take a small cut of any fees generated, they do serve a valuable purpose in the affiliate marketing climate
Aggregating offers from different vendors
Create a directory or search engine for affiliate marketers to find offers
Handle the administrative duties of running an affiliate network
In this post, I will go through some of the most popular affiliate networks that I personally use.
Best Affiliate Networks
1. Amazon Associates
Amazon Associates is an affiliate marketing program run by Amazon which allows you to sell its products on your own website in exchange for a cut of the profits. This enables you to boost your product range, test new types of products on your audience, or even build a full business around this and perhaps other affiliate programs. For small businesses that currently sell products online, this could represent a great source of added revenue, if you sell additional products through Amazon, without worrying about getting the products yourself. Amazon conducts the sales and ships them directly to the client.
Commission Fee Structure
Amazon operates a volume-based advertising fee structure. The more products that are shipped as a result of your affiliate links, the more you'll make per sale. Once you have sold enough products to move up to a different advertising rate, all subsequent sales will give you commission at that rate, until and unless you reach the next fee level. Note that some products are exempt from this commission structure.
Commission Fee Schedule
Until 2017, Amazon offered a stepped commission structure so that affiliates who sold a lot of products were paid a higher commission than those who sold little. However, Amazon eliminated this structure and began using flat commission rates for different types of products. While this is likely to continue evolving, examples of the commission structure in 2018 are as follow:
1.0% for video games and game consoles
2.0% for televisions and digital download games
2.5% for computers, computer components, DVD and Blu-Ray
3.0% for toys
Amazon tablets and Kindle devices: 4.00%
4.5% for paper books, healthcare, personal care, sports, kitchen, car, and baby products: 4.50%
5.0% for digital music and video downloads; grocery items, handmade items, or musical instruments
6.0% for headphones, beauty products, musical instruments, business, and industrial supplies
7.0% for clothes and accessories, Amazon TVs, Amazon Echo products, and jewelry
8.0% for furniture, lawn, and garden, home improvement, pantry, and pet products
10.0% for Amazon fashion items and Amazon Coins
Most other categories will earn affiliates a four percent commission, while Amazon gift cards and wine do not pay any commission.
Receiving Payment from Amazon
Amazon will not pay you unless your affiliate sales reach a threshold of $10 if you choose to be paid by direct bank deposit or Amazon gift card, or $100 if you want to be paid by check. If you fail to reach the threshold, your affiliate balance is carried over to the next month and added to the sales you make then. Amazon pays affiliate sales at net 60 days, so, for example, sales that reach the threshold at the end of January will be paid in late March.
2. ShareASale
ShareASale is one of the largest affiliate networks. The Shareasale platform has about 4,000 merchants listed, of which over one thousand of them are exclusive to them. ShareASale publishes a large amount of data on each of the offers they are running, these include:
Earnings per Click
Reversal Rates
Average Sale Amount
Average Commission
While these figures aren't guarantees of payouts you can expect, they're certainly very helpful in assessing a campaign.
The advantages of ShareASale include:
Large Partner Network. The 4,000+ merchants include more than 1,000 that are exclusive.
Easy to Compare Offers. When trying to choose from the various offers available, ShareASale makes it very easy to evaluate the best ones based on the metrics.
Quick Payment Cycle. The ShareASale payout on the 20th of every month, assuming your account balance is more than $50.
Disadvantages of Shareasale:
3. MaxBounty
A relative newcomer to the affiliate space, MaxBounty was founded in 2004 in Ottawa, Canada. MaxBounty claims to be the only affiliate network built specifically for affiliates. MaxBounty is exclusively a CPA (Cost Per Action/Acquisition) company that doesn't deal with ad banners or the like, just customer links that the publisher (blogger) chooses where to place on their website.
Niche Information
MaxBounty works in the business niche and claims to have more than 1,500 active campaigns.
Product Types
MaxBounty works exclusively with digital products, usually about giving one's email or signing up for a newsletter. MaxBounty has CPA, Pay-per-call, and CPL campaigns that you can choose from. MaxBounty is involved in a large number of verticals, including market research, real estate, social games, finance, dating, and diet, but is primarily designed for marketers seeking to acquire new leads.
Average Commission Rate
The commission rate depends on the type of campaign. A glance at their website shows everything from $2.50 to $85 per CPA while other campaigns pay out a given percentage of a sale. The referral commission is five percent.
Cookie Duration
MaxBounty doesn't use cookies in order to track CPAs. The way MaxBounty works is the affiliate sends a prospect to a designated landing page using an affiliate-specific link.
Who Is it for?
MaxBounty is attempting to get ahead of the pack by enforcing very strict anti-spam rules, sometimes onerously so. MaxBounty only works with digital products, not sales of physical items. MaxBounty does allow CPA action (and thus earning) via mobile devices.
As such, MaxBounty is probably best for mid-level to top-level internet marketers who are confident in managing and sending traffic. If you're just starting out in the affiliate game, MaxBounty is probably not going to earn you much money.
MaxBounty is pretty easy to get around, and the dashboard is great as it clearly lists the best offers for your niche.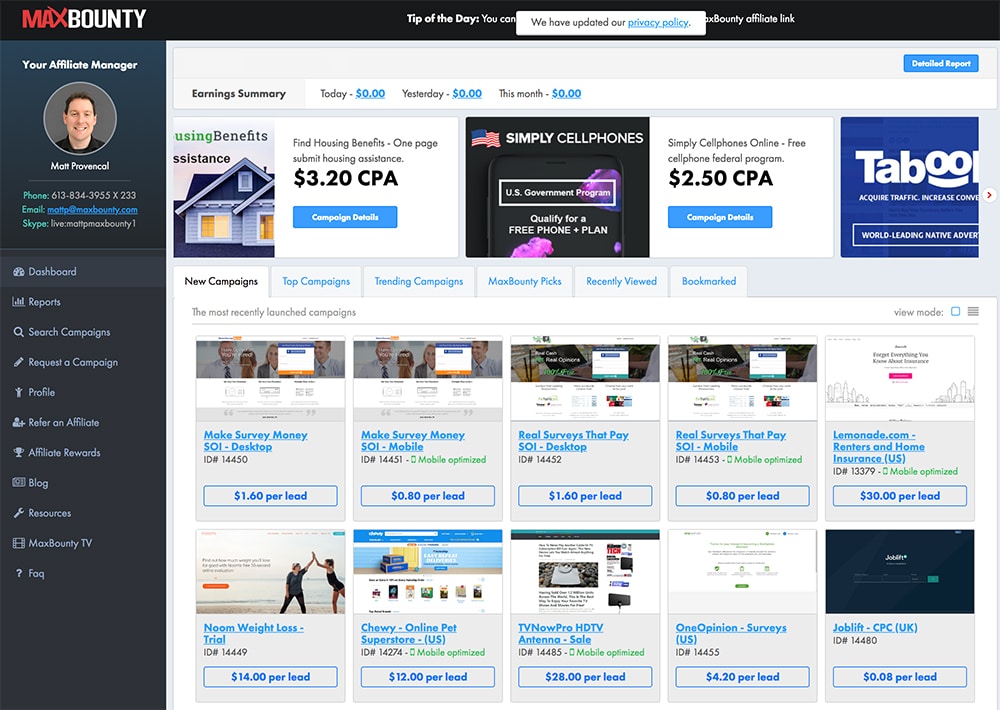 A quick round-up of the pros and cons of this program:
Pros: 
Very responsive customer service.
$1,000 bonus for affiliates who earn $1,000 or more in the first three months.
Weekly payments ($50 minimum) via check, Paypal, Intercash, eCheck, ACH (direct deposit), bank wire, or Bitcoin.
Has worked with some high-profile brands.
Simple to use dashboard with useful ability to sort for high-paying offers.
Cons: 
A large number of affiliates have reported a negative experience.
Accounts are often terminated with little or no explanation.
Can take a long time to get approved, which includes a voice call.
4. CJ Affiliate (Formerly Commission Junction)
CJ Affiliate is considered to be the biggest affiliate platform online; if you have worked in the affiliate marketing space for any amount of time, you've probably come across them.
Nearly every major retailer has their affiliate programs on CJ Affiliate (formerly Commission Junction), which makes them as close to a one-stop-shop as you can get in the affiliate marketing business. Most retailers have multiple ad sizes available for affiliates, which gives you better control of the offers you show on your blog.
With such a wide array of advertisers on the CJ Affiliate platform, it makes it relatively easy to compare and segment different offers. Finding the affiliate tracking code to place on your blog is also straightforward; once you're approved to promote an offer, you can be running lots of different offers on your site in just a few short hours.
To summarise, the advantages of the network are:
Large Partner Network. CJ Affiliate has over three thousand advertising partners, many have lots of creative sizes and various affiliate link options.
Reliable Payments. They offer a net-20 payment term which means that you'll get your commission paid out in a timely manner each month.
Powerful Reporting Options. The reporting suite from CJ Affiliate is pretty impressive, which is a big advantage for marketers who plan to spend their time optimizing their sales performance.
Disadvantages of the network include:
Steep Learning Curve. While the reporting capabilities are great, they're also quite difficult for beginners to get to grips with. You'll need to spend time in the dashboard before you're comfortable navigating the reporting suite and can then start to take full advantage of the tools on offer.
Limited Customer Support. Due to a large number of affiliates and merchants, it's understandable that customer support is quite limited. But only having a contact form as the main method to get in touch with the support department can be restrictive.
5. Flexoffers
Flexoffers is another huge affiliate marketing network. They pay you (the affiliate) a lot faster than others in the industry. It has more than 10 years of experience in the field. While they do not offer anything that is neither groundbreaking nor revolutionary, they do provide a solid array of tools and features that will surely aid you in your campaigns. In addition to the fast payouts, Flexoffers lets you choose from thousands of affiliate programs to promote, offers various content delivery formats, and more.
FlexOffers connects bloggers, content creators, and other types of publishers with small, medium, and large budget advertisers & brands.
They have tens of thousands of different affiliate programs to choose from. They have divided these affiliate programs into dozens of broad and hundreds of sub-categories, which makes the publisher's life easier to find exactly what would fit into their niche.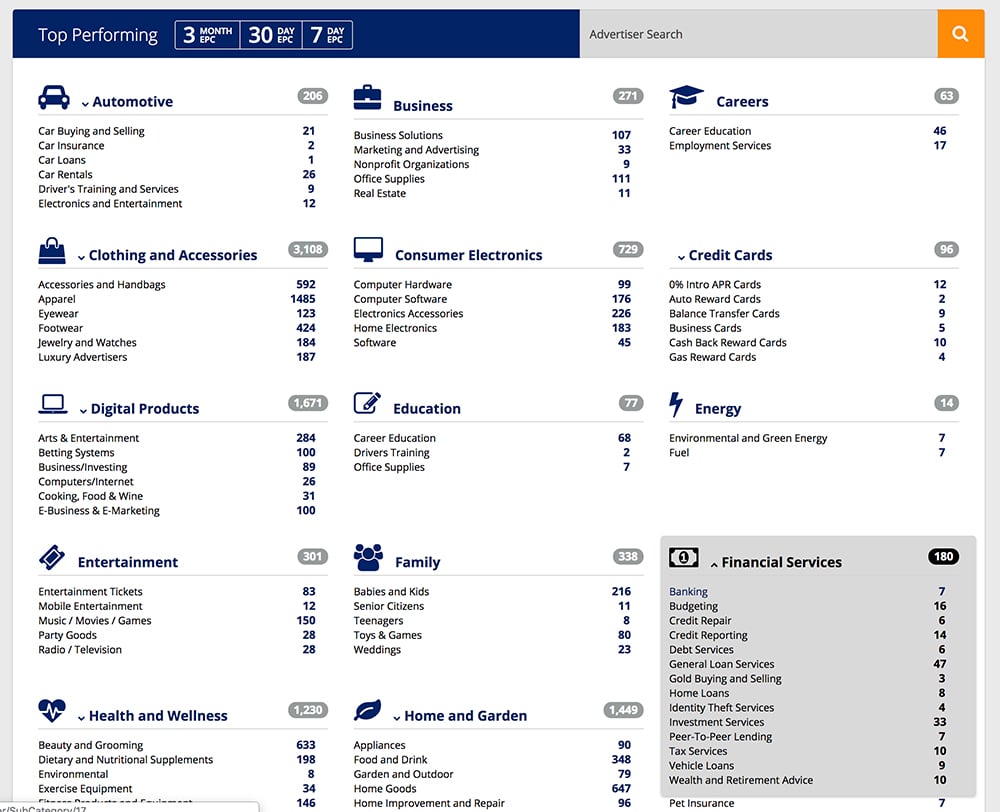 Flexoffers also has its own affiliate program which is a license to print money. If you refer someone to FlexOffers and they earn a commission, you also earn a commission. You can earn as much as 50% of any earnings generated by any affiliates referred by you. How cool is that!!!
The advantages of FlexOffers include:
Revenue Share. As I just mention, if you refer someone to FlexOffers and they generate income, you get a cut of what they earn.
Dedicated Affiliate Manager. A lot of networks leave you to your own devices. Not FlexOffers. You get your own Affiliate Manager to help you get the most out of your affiliate marketing efforts.
Vast Amounts Of Affiliate Programs. Well over 15k affiliate programs to choose from and apply for.
Disadvantages of Shareasale:
Paypal the only payment option for those who are based internationally ( Outside US )
6. Viglink
VigLink works a bit differently than other affiliate programs in that it is specifically designed for bloggers. Instead of affiliates picking and choosing which merchants to work with, VigLink uses dynamic links that automatically change to work with merchants that VigLink has determined are offering the highest conversation rates and/or commissions at any given moment.
In effect, VigLink works as the middleman between a publisher (blogger) and merchants by scanning the publisher's content and automatically creating links to publishers that are chosen "in real time" based on their payout/conversation rates. This makes VigLink a very hands-off affiliate program for publishers who prefer to focus on content instead of managing their affiliate links.
Niche Information
VigLinks works with all types of advertisers/merchants but does categorize them by "trends" or what's popular. It's important to note that this information about trends comes from third-party sites, not VigLink itself.
Product Types
VigLink is primarily about selling physical products but also does work with some digital-only products and services.
Average Commission Rate
VigLink allows affiliates to filter between CPC, CPA, or both CPA and CPA offers. The commission rates are set by the merchant, not VigLink.
Cookie Duration
It depends on the merchant and/or offer.
Who Is it for?
VigLink is an intermediary platform, so it can serve as a backdoor for affiliates who have previously been banned/suspended from working with other affiliate programs like Amazon. And while you can choose specific merchants or offers, VigLink can be set up to work automatically by scanning your published content and dynamically generating affiliate links, making it a great choice for established content producers who are looking for a simpler way to generate revenue via an affiliate program.
A quick round-up of the pros and cons of this program:
Pros of VigLink: 
Works well across websites/social media/apps.
The one-page dashboard is very simple to use yet powerful.
Great for bloggers who want a more hands-off affiliate program.
A good option for people banned from Amazon or other affiliate programs.
Can be set to dynamically update links to maximize your income.
Cons of VigLink: 
You have to be approved by each merchant separately.
The "automatic creation of links" needs to be fine-tuned (esp. the WordPress plugin) in order to maximize earning potential.
Huge disparities in payouts between merchants/offers.
Only pays out once a month.
VigLink will take a healthy slice of your commissions/income.
7. Rakuten Marketing (Formerly LinkShare)
Rakuten LinkShare is considered to be one of the oldest affiliate partner networks, it is now a fair amount smaller than some of the bigger players in the affiliate industry. There are a few slick features of Rakuten LinkShare that differentiate this platform from the rest.
For example, they have the ability to rotate through the various banners automatically for a product which is a huge advantage when trying to optimize your offers. Instead of having to manually select which ad you want to run on your blog, LinkShare lets multiple versions rotate with only one small piece of code.
LinkShare also allows for more flexible "deep linking" to individual merchant landing pages, this allows for increased customization of the types of campaigns you can run.
The advantages of LinkShare are:
Ad Rotation. This may seem like a pretty minor feature, but it can make a significant difference when it comes to optimizing your ads.
Deep Linking Options. LinkShare lets you choose the page you want to send your traffic to on their site, giving you more flexibility for promoting different affiliate offers.
Disadvantages include:
A Much Smaller Network. LinkShare has around 1,000 partners – this is considerably fewer than the bigger networks like CJ Affiliate or ShareASale.
Unpredictable Payments to Affiliates. Rakuten LinkShare only payout to their affiliates once the commissions are collected from their partners.
8. ClickBank
ClickBank is the "OG" of affiliate marketing programs and has been around since the earliest days of the internet. After suffering from low-quality products that verged on spam back in 2012, ClickBank (or "CB" to those in the industry) has revamped its review process and created a much better dashboard.
There's a good reason why ClickBank is still a strong contender, however, it does tend to focus more on digital products that may be of questionable quality. Yes, the review process is more professional these days, but it's still primarily focused on selling digital products, especially "how to make money" courses and the like. That being said, there are some genuinely high-quality products on offer, and few affiliate programs are bigger than ClickBank, especially in selling (primarily digital) books.
Niche Information
ClickBank previously focused primarily on digital products, particularly marketing type courses, but has now vastly expanded its offering to include both digital and physical goods.
Product Types
ClickBank's focus tends to be more on niche e-books, online courses, and e-courses, although they have expanded into some physical goods as well.
Average Commission Rate
Up to 75%.
Cookie Duration
Cookie duration depends on the product, but none are unlimited/lifetime.
Who Is it for?
ClickBank allows you to join for free, and the approval process is virtually automatic, so it's a great choice for people entering the affiliated game for the first time. ClickBank has a ton of information, including FAQs, walkthroughs, and videos available, so the barrier to entry is quite low. There's also a (paid) program called ClickBank University with courses and assistance from experienced marketers.
There's also a second-tier program called the "joint venture program" that allows you to collaborate with ClickBank partners, a type of second-tier affiliate program. There's an approval process for this, but the commissions are higher. ClickBank is superbly positioned for publishers (bloggers) working in smaller niches.
A quick round-up of the pros and cons of this program:
Pros: 
Weekly payouts with many different payout options.
The joint venture program allows for even higher earnings.
One of the biggest and most robust affiliate programs out there.
ClickBank enforces a 60-day, no questions asked money-back guarantee on ALL products.
Instant approval process.
Cons:
A refund policy improves conversion rates but can eat into your income.
Strong competition from other affiliates selling the same products.
Some digital products being sold are very low quality.
Initial payments are made by check only – only after a minimum number of sales can you get payouts via wire transfer or PayPal.
Limited range of physical products.
9. JVZoo
JVZoo was founded in 2011 and has since rocketed to near the top as one of the most popular affiliate programs out there. JVZoo is unusual in that there are no upfront costs for either publishers or merchants (advertisers). JVZoo's income is exclusively from charging fees (to both the merchant and the affiliate) after a sale has been made. It is also unusual in that it pays commissions "instantly" via PayPal rather than once a week/fortnight/month like other affiliate programs.
Niche Information
JVZoo works exclusively with digital products, primarily e-commerce, online courses, and internet marketing offers. Because there are no limits placed on the number of links, buy buttons or calls to action on a website, JVZoo can sometimes be somewhat low quality both in terms of offers as well as products. Nonetheless, it has proven itself to be a fierce competitor to companies like ClickBank.
Product Types
JVZoo is primarily about selling online courses or getting people to hand over their information to marketing companies, but it has carved out a leadership role in advertising product launches, which occur every single day.
Average Commission Rate
Commission rates vary based on product/merchant, but many of them offer 50 percent or higher returns.
Cookie Duration
Unlimited/lifetime cookies.
Who Is it for?
JVZoo lets you both host and creates landing pages on their own website, so it's far better suited for professional marketers who want to flood the internet with offers, many of them for courses to make money. You don't need your own website to participate in JVZoo, but you will need to know how to drive traffic to a landing or squeeze page in order to profit from being a JVZoo affiliate.
JVZoo's strength is that it allows experienced marketers to gain access to product launches and a huge range of online courses while setting up sales funnels and customized landing pages. It's definitely not for someone who wants to monetize a blog or earn money by having users click through and buy physical products. If you've carved out a strong presence online in the marketing space, JVZoo might be a perfect fit.
A quick round-up of the pros and cons of this program:
Pros of JVzoo:
Free to join and you can (later) qualify for instant payouts (Paypal).
Ideal for marketing new product launches.
You don't need your own website.
You can (sometimes) recruit second-tier affiliates using the lifetime/unlimited cookies.
Huge range of products and categories with detailed statistics on each program/merchant.
Cons of JVZoo: 
Lots of videos and documentation available, but you have to pay to access it (a one-time fee).
Many of the products are quite low quality, if not actual "spam."
You have to sell 50 products or more to get instant Paypal payouts.
The user dashboard is a bit clunky and can sometimes misfire.
Many merchant/seller ads are hyperbolic and misleading.
10. Warrior Plus
Warrior Plus's website and interface look like something from an earlier era, but Warrior Plus is a strong contender in advertising online courses and "make money" marketing programs. Where Warrior Plus shines is its instant payments (via PayPal) and paying out for all products in the sales funnel.
Because vetting the products (including refund rates) requires a lot of time and effort, Warrior Plus is best positioned for experienced marketers who are looking to earn commissions on a large range of programs.
Niche Information
Warrior Plus (or Warrior + as it's known in some circles) is exclusively dedicated to internet marketing.
Product Types
The only products available for sale via Warrior Plus are digital ones, including one-time offers and "free" courses given in exchange for contact information. The majority of Warrior Plus products are courses on how to make money (known as MMO/BizOpp in the industry).
Average Commission Rate
Commission rates vary wildly depending on the product.
Cookie Duration
Cookie durations vary by product.
Who Is it for?
Warrior Plus is ideal for experienced internet marketers who want to earn commissions on (other) internet marketing offers. Warrior Plus's clunky interface and high volume of (often) low-quality products make their program best suited for experienced affiliates who have sophisticated methods of driving traffic to specified links.
A quick round-up of the pros and cons of this program:
Pros:
Easy and free approval process.
A large number of (digital) products on offer.
Very transparent operation and high payouts/commissions for some products.
Useful metrics on vendors.
Instant Paypal payouts or payouts via Stripe.
Cons:
Requires approval from each vendor, which can be time-consuming.
Sells a large number of low-quality products.
Refunds can eat into your income.
You have to make five sales before getting your first payout
Lack of transparency/info about some products.